While 2022 began on the heels of an extreme seller's market we saw in the wake of the COVID pandemic, the second half of the year showed a marked shift back toward normalcy.  Rising interest rates and tech layoffs significantly slowed down the number of home sales.  The good news for buyers is that we finally saw a rise in the number of homes for sale (although we're still not back up to our pre-pandemic inventory level).

Our Chief Economist, Matthew Gardner, predicts that median home prices will continue to pull back from their 2022 spike, but will then resume a more normal level of appreciation once interest rates stabilize.  You can find his full forecast here.

Click or scroll down to find your area report:
---
SEATTLE
The Seattle real estate market seems to be out to prove the old "tortoise and the hare" fable. The tale the numbers are telling is that when you don't boom big, you're likely not to bust big. 2022 was a year of steady growth and a lot less fear than in surrounding cities.
On average in a 2022 total look back, Seattle's median price was up 10% (to $940,000) over $852,000 in 2021. Most of this gain was realized in the first half of the year, and unfortunately eroded in the second half of the year—when combined, it paints a fairly clear picture that we're back to a "normal" market coming into 2023.
Queen Anne-Magnolia (up 17%), West Seattle (up 14%) and the Central District (up 13%) all fared better than average. Kenmore hung in at a 6% gain, which, given the volatility of interest rates and speculation, is still a respectable number for the year!
The headline for this year is that overall transaction volume was down in a big way. In Seattle, there were a total of 8,173 homes that sold; this is down 30% from the 11,670 sales we saw the year before. The slower market is not, however, creating a climate of fear where homeowners jump to cash out at the peak. New listings for the year were down a total of 13%.
We'll be watching closely in 2023. If consumer confidence builds with the stabilization of interest rates, we're going to have an even larger inventory crisis than we've faced in years past.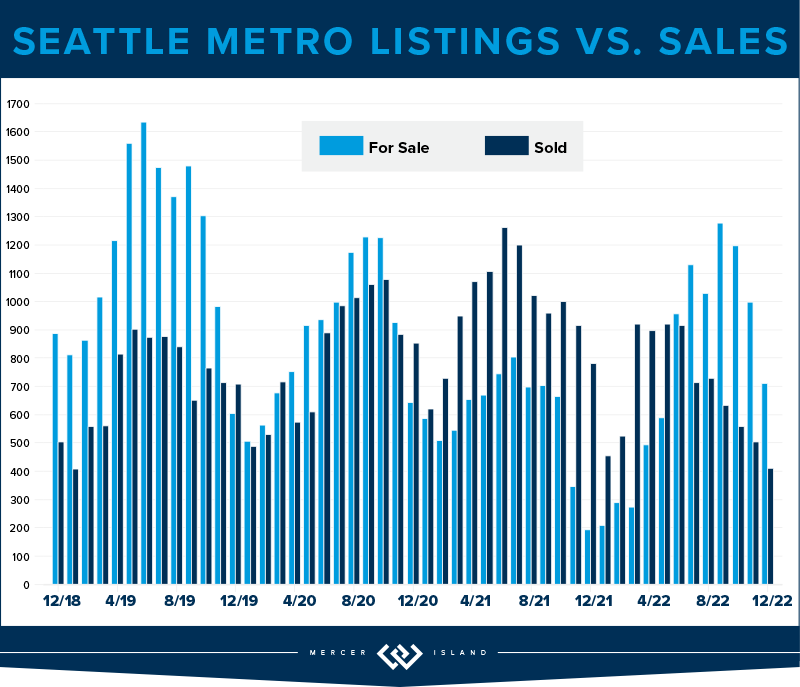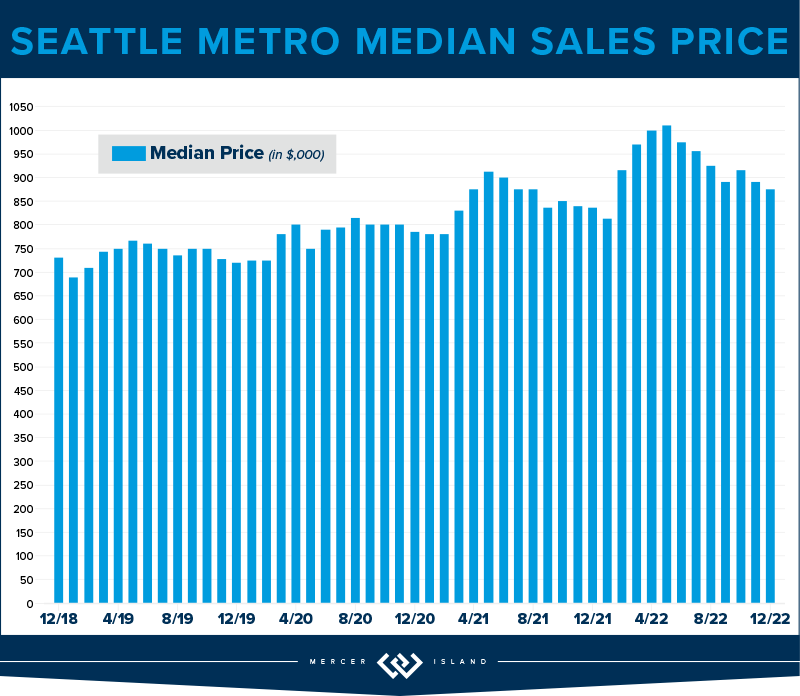 Click here for the full report and neighborhood-by-neighborhood statistics!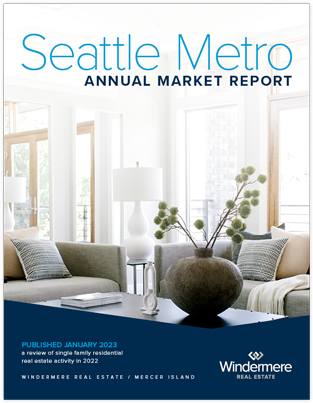 ---
EASTSIDE
Finally, it's safe to say that balance and normalcy have returned to the Eastside real estate market. The irony is: now that we're in a balanced market, which is what homebuyers have purported to crave for a long time, the buyer's appetite to purchase has all but dried up; overall transaction volume was down 36% in 2022 (5,448 sales vs. 8,569 in 2021).
If any of you are considering a move in the next 5 years, NOW is the time. The pendulum has swung back in the buyer's favor: home inspections, negotiations and contingencies are all prevalent. We may not be at the exact "bottom" of pricing, but interest rates have stabilized, there are good homes for sale, and competition amongst buyers is rare. This is IT!
The Eastside's Median Sale Price was $1,525,000 in 2022, up 14% over 2021's unbelievable 30%+ gain ($1,350,000). Woodinville rules the day at a 17% rise, followed closely by Mercer Island (+16%) and Bellevue (both East and West at +15%).
While the market is slower paced, we are not in dire straits. This is thanks to a continued lack of inventory (down 5% YOY), and the amount of equity built in 2020 and 2021. Home sellers will spend the year working to determine the best way to attract a buyer. Price, preparation and timing will all play an important role. Home shoppers are sure to revel in their day in the sun!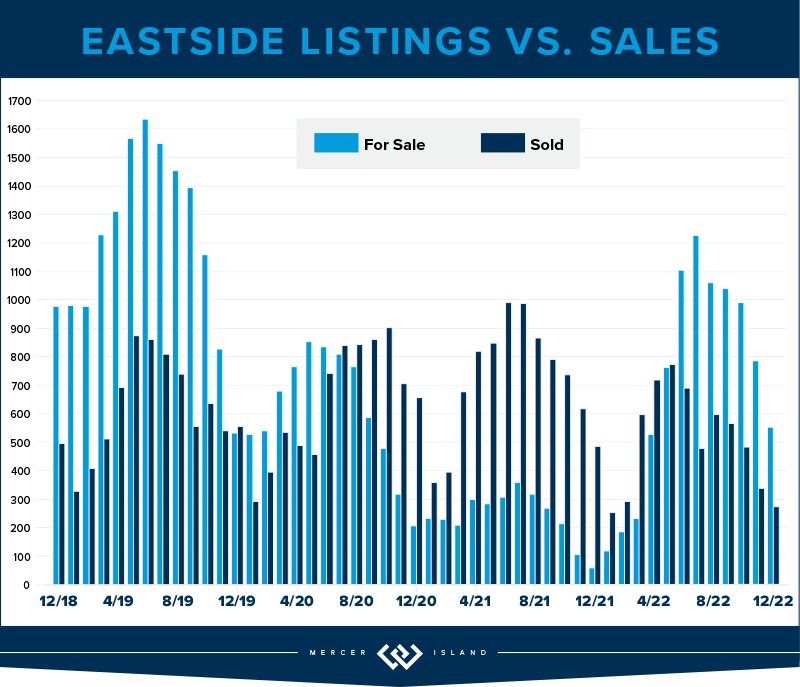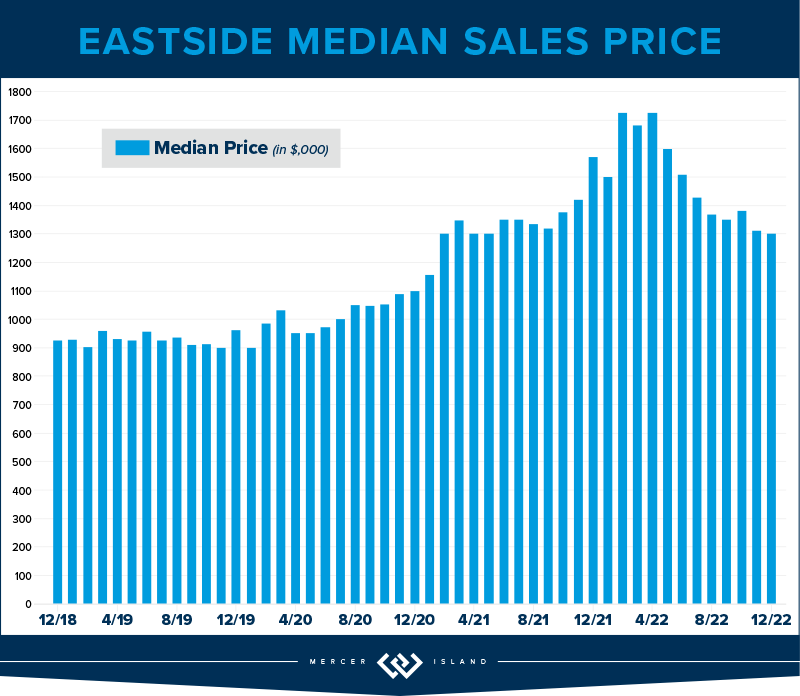 Click here for the full report and neighborhood-by-neighborhood statistics!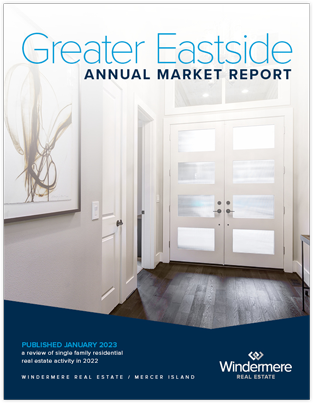 ---
MERCER ISLAND
Mercer Island was once again its own unique micro-market within the Pacific Northwest. Total sales volume was only 209 homes, down 46% from 2021. This means that of nearly 10,000 households on the Island, only 2% purchased/sold a home.
The pace of sales was affected not only by interest rate volatility but also by the local tech economy/job market. The median home price nevertheless held strong with a 16% rise over 2021, even with the price correction that we all started to feel mid-year.
Buyers have decided to sit on the sidelines while it all shakes out, but home-owners on Mercer Island are not running for the hills. They're patiently waiting (often without adjusting their asking prices) for the demand to return. It seems to be working: the median list price to median sales price ratio ROSE in 2022 from 77% to 88%.
2023 should be a solid year for Mercer Island real estate. All the pieces are in place: community pride, great schools and easy transportation. Let's see if the upward trend continues!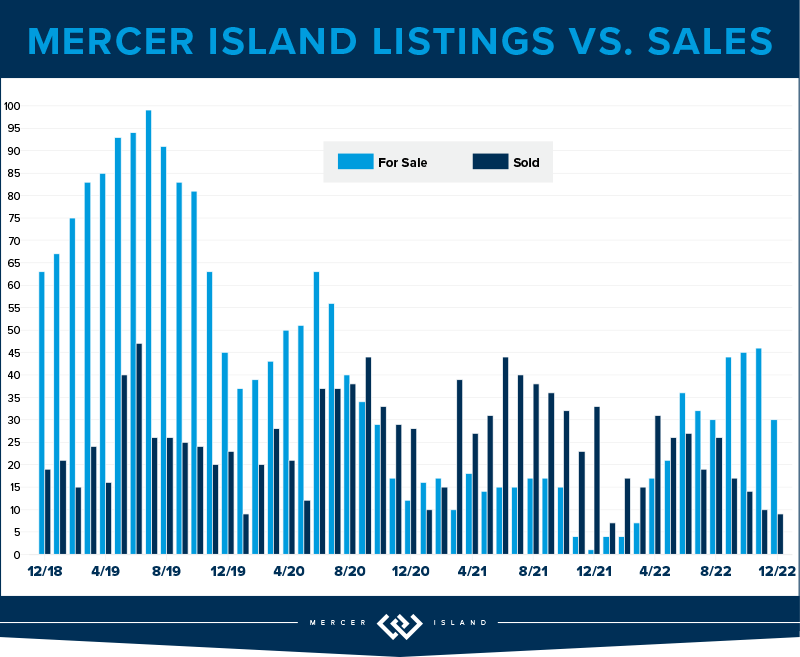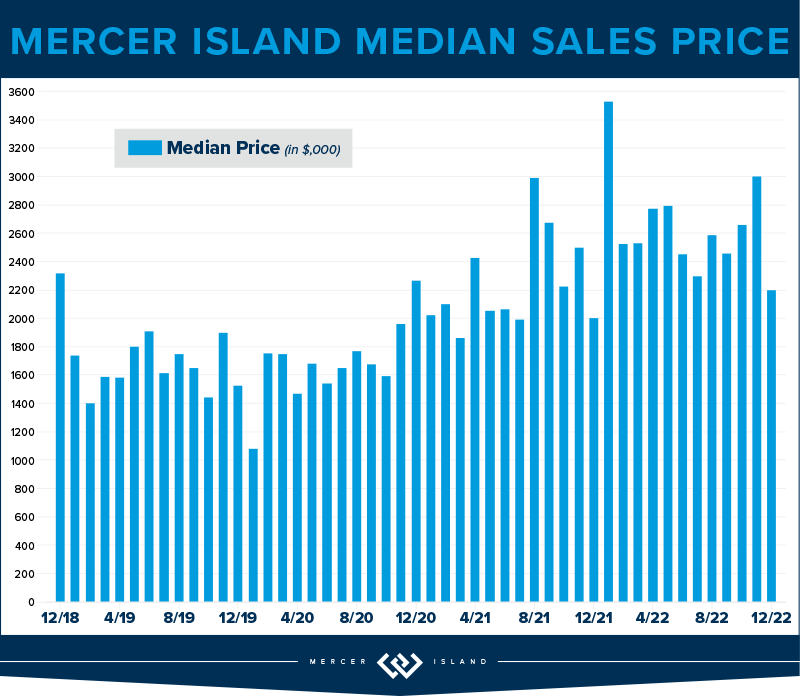 Click here for the full report and neighborhood-by-neighborhood statistics!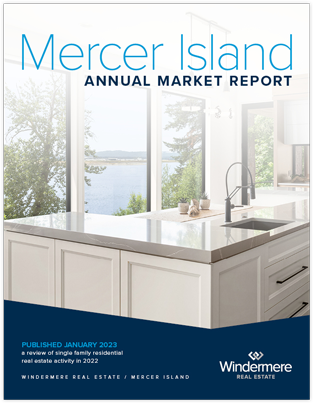 ---
CONDOS – SEATTLE & EASTSIDE
Seattle condos saw a Median Sale Price increase of 6% (to $520,000) and Eastside condos saw a 13% increase (to $620,000) in 2022. 53% of Seattle condos and 67% of Eastside condos sold in the first ten days on the market. This growth is larger than what we saw in 2021, which hopefully is some good news to anyone thinking of selling a condo in 2023. It seems that demand for urban living may be returning.
66% of Seattle condos and 77% of Eastside condos sold at or above their listed price. Those listings that sold in the first 10 days on the market went for an average of 1% and 4% above their list price, respectively..
On the Seattle side, Shoreline and Lake Forest Park condos saw about a 20% increase—and on the Eastside, Sammamish and East Bellevue condos carried the day with 19% and 23% increases—in Median Sale Price.
Overall, condos get our award for "ones to watch." They remain a bright spot in terms of affordability when compared to single family homes, especially on the Eastside. Compare the $620,000 median sale price of a condo to the $1,525,000 median home price and it's clear condos are a great first rung of the property ladder that might get attention in 2023.
Check out area-by-area details the full condo report.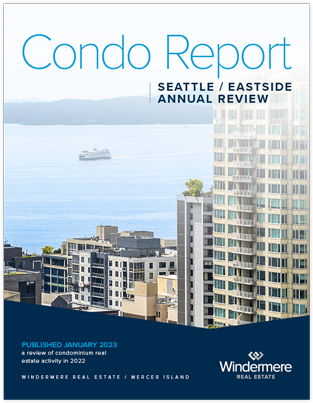 ---
WATERFRONT
There were 93 privately-owned waterfront home sales in the greater Seattle-Eastside region in 2022 (Eastside-32; Seattle-36; Lake Sammamish-15; Mercer Island-10). This is down significantly from the banner year in 2021 when we saw a whopping 170 total sales.
This truly is a market with geographic limitations. With such a high volume of sales in 2021 and a relatively strong 2022, we expect 2023 to be more conservative. Our late-2022 market shift from an extreme seller's market to a more balanced level of supply and demand coincided with the close of the waterfront selling season. This means pricing will be tricky this season as we explore uncharted waters. More than ever, real estate experts will be essential to analyze the data and consult their spidey-senses to find the price that will attract a buyer in this new normal.
This brief overview of the entire Seattle-Eastside private waterfront market, including Mercer Island and Lake Sammamish, illustrates the trends occurring in our region over time. This data is interesting and insightful but cannot replace an in-depth waterfront analysis with your trusted professional.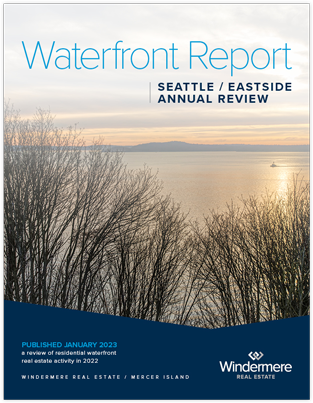 ---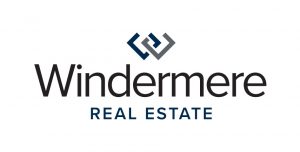 © Copyright 2023, Windermere Real Estate/Mercer Island. Information and statistics derived from Northwest Multiple Listing Service and Trendgraphix, and deemed accurate but not guaranteed.