Across the region, home values continued to see huge year-over-year gains from 2021 to 2022. Most homes sold in the first 10 days and for well above the asking price. We started the year with an extreme shortage of homes for sale, resulting in an overall lower number of sales compared to the start of 2021. Buyer demand, however, remains incredibly strong.
With interest rates on the rise, buyers are feeling more pressure than ever to secure a home. We are hoping to see more listings come to market this spring and provide some much needed relief for weary house hunters.
Click or scroll down to find your area report:
---
SEATTLE
The Seattle real estate market for single family homes is off and running! The median sale price is up 6% since the end of 2021. Which means: Seattle's price gains were as much in the first quarter as all of 2021. Year over year, the median price rose from $800,000 in Q1 2021 to $910,000 in Q1 2022.
For anyone who has focused their home search on the Eastside and has come up empty handed in 2021, Seattle could seem like an affordable opportunity this year. Seattle's price gains were strong, albeit conservative in comparison with the Eastside. More plentiful active inventory (relatively speaking), and a more affordable median sale price of $910,000 (vs $1,625,000 on the Eastside) indicate that Seattle could be a bright spot of hope for any buyers left behind by the Eastside's double-digit gains.
Rising interest rates in late Q1 are sure to play a part in the weary home buyer's decision-making process. However, the close of quarter numbers are encouraging: 82% of homes sold in the first ten days!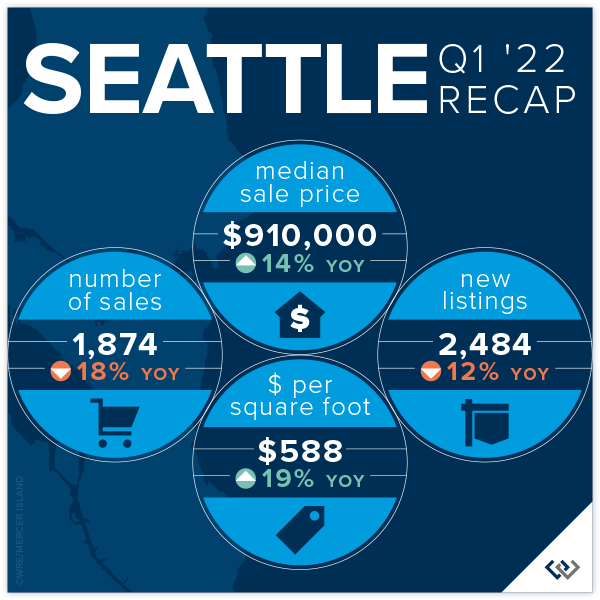 Click here for the full report and neighborhood-by-neighborhood statistics!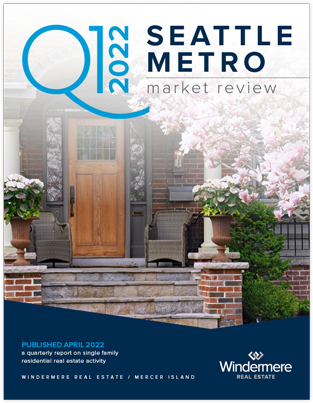 ---
EASTSIDE
Once again Eastside Real Estate is off to an incredible start in the first 3 months of the year. Multiple offers and wildly aggressive escalation clauses are the story of the day, and not just anecdotally—the numbers don't lie. The average list to sale price ratio was a staggering 119%, which means the typical home listed at $1,000,000 sold for closer to $1,190,000. This is an even stronger showing than the previous record high of 112% in Q1 of 2021.
New listings were relatively flat compared to Q1 of 2020 and 2021 (1912 vs 2058 and 1935 respectively) while the total number of sales were down 21% (1137 vs 1413 in the prior year). We believe this can be explained by looking at the trailing inventory from the previous Q4 in both cases (1496 vs 1238). There were just fewer homes for sale, certainly not less demand. This was reflected in the overall price gain of 25%!
Without a crystal ball it will be tough to tell exactly how much impact the market will feel from the steep rise in interest rates. In the short term, everyone seems to be taking a deep breath as we move into Q2. Overall, the Eastside's core values—highly ranked schools, community focused neighborhoods, and close commute proximity to some of the area's largest employers—should keep the area in high demand!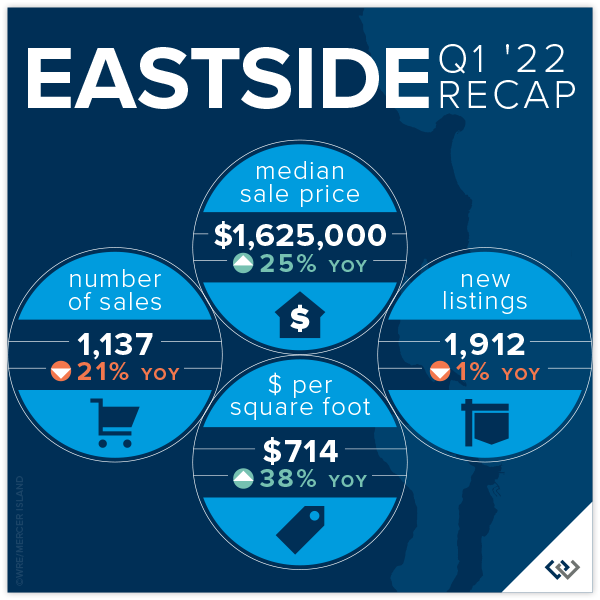 Click here for the full report and neighborhood-by-neighborhood statistics!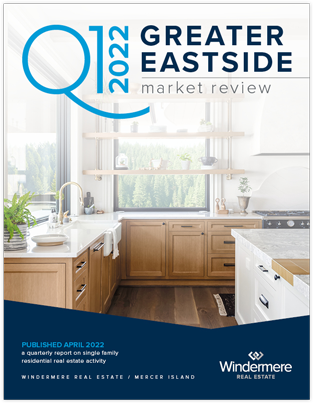 ---
MERCER ISLAND
Mercer Island by the averages was quite shocking in Q1 of 2022: 3 homes per sale per week, 11 days on market, and 111% list price to sale price. This translates to buyers who would have otherwise joined our community casting a wider net to places like Bellevue, Issaquah, and Sammamish.
One of the affordability indicators that we historically track has become obsolete over the past few quarters: number of homes listed/sold under $1,000,000. In fact, there was only one home listed under $1,500,000 in Q1. 21 of the 39 homes had sale prices above $2,000,000 and 9 were above $3,000,000!
If you're a buyer trying to break into the Mercer Island market, patience and the ability to act fast are the top two tips we have for you. 85% of the 39 homes for sale in Q1 sold within the first 10 days. Working with a local pro will be your biggest advantage.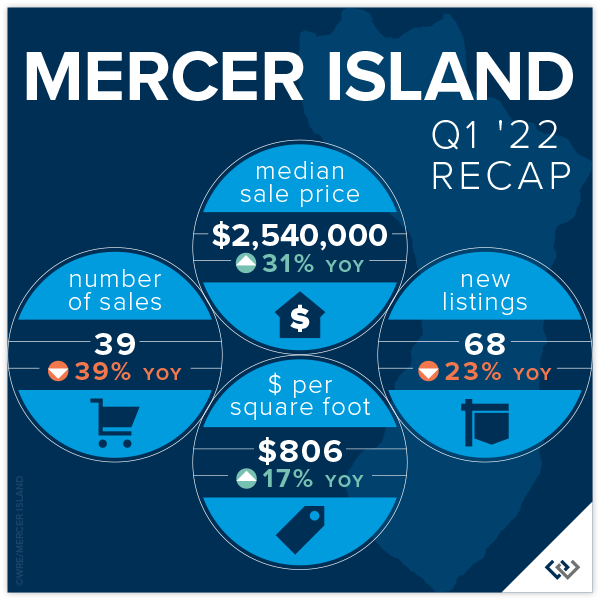 Click here for the full report and neighborhood-by-neighborhood statistics!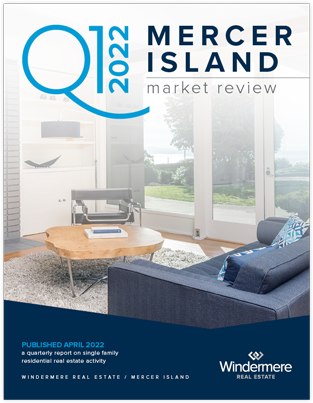 ---
CONDOS – SEATTLE & EASTSIDE
Condos continue to gain ground early in 2022. While the year-over-year median price gains are conservative compared to the single-family market, we see this as a good thing! Condos are a bright spot for today's home buyers as interest rates rise.
Seattle condos saw a 9% increase (to $519,000). Eastside condos are up 16% (to $625,000) a 26% lift in price per square foot compared to Q1 2021.
Shoreline and East Bellevue led the market in median price gains year over year, up 66% and 48% respectively. Queen Anne and Kirkland were the most conservative with 1% and 4% gains respectively. 85% of Eastside condos sold over the list price, so if you're shopping be prepared to compete.
Check out area-by-area details the full condo report.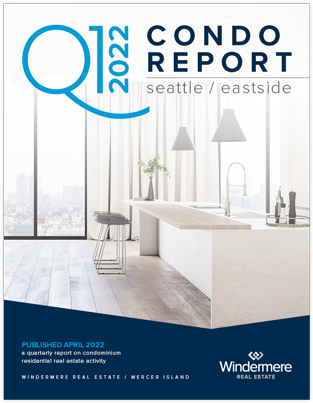 ---
WATERFRONT
If the first three months are any indication, it will be a tight inventory year in the Waterfront real estate market. On all shorelines, there were a total of 17 homes sold overall with an average of only 6 listings for sale at any one time. The good news is that we're up from this time last year when there were only 14 homes sold overall.
Notably, the highest overall sale (at $12,750,000) was on Lake Sammamish in Issaquah! The most affordable waterfront this quarter was a home in Rainier Beach that sold for $1,362,500.
This brief overview of the entire Seattle-Eastside private waterfront market, including Mercer Island and Lake Sammamish, illustrates the trends occurring in our region over time. This data is interesting and insightful but cannot replace an in-depth waterfront analysis provided by a savvy broker with years of local waterfront experience.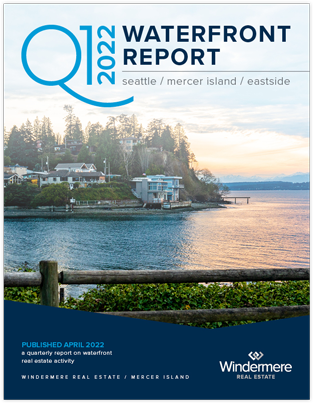 ---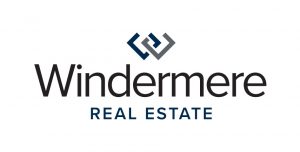 We earn the trust and loyalty of our brokers and clients by doing real estate exceptionally well. The leader in our market, we deliver client-focused service in an authentic, collaborative, and transparent manner and with the unmatched knowledge and expertise that comes from decades of experience.
© Copyright 2022, Windermere Real Estate/Mercer Island. Information and statistics derived from Northwest Multiple Listing Service and deemed accurate but not guaranteed.